Posts Tagged 'Greta Gerwig'
Rated R for language, sexual content, brief graphic nudity and teen partying (NOTE: this last is a hoot. I guess only VERY mature adults should view teen partying. Ha.)
Mad Cow's Rating:

Lady Bird is a young woman, a teenage girl coming into herself. She has not been silenced and along the way has developed an ability for critical thinking, at least some of the time – she is a teenager after all – that most Americans lack. She has, as my parents used to say derogatorily, "a mind of her own." Written and directed by Greta Gerwig, who starred in Frances Ha, this film is
one of the most brilliant I've seen in a long time, and often hilarious to boot. People say this is an autobiographical movie but I think that while inquiring minds often want to know, the fact of it, or not, is irrelevant.
There are no discernible stereotypical characters in the movie. In fact, the movie reminded me how I often accept movie stereotypes as a kind of short-hand. One big trope is the delinquent/difficult teenage girl. You won't find her here. Saoirse Ronan (who was nominated for an Oscar in her role in Atonement) shines in this sensitive role. Christine McPherson, who has dubbed herself Lady Bird ("Is that your given name?" "It's the name I gave myself."), lives in Sacramento with her brother Miguel (Jordan Rodrigues, Home and Away, The Fosters), his girlfriend, and her parents. She thinks the town is mind-numbing ("the Midwest of California" – ouch) and longs for the East Coast, imbued, in her mind, with the utmost sophistication.
If I were to outline the plot, readers might yawn. The film portrays many of the usual experiences of suburban white middle-class teens. But the splendor is in the telling. The story includes nerds, kids into "counter-culture" defined as alcohol and drugs, a guy who is gay but closeted. Then there's the Catholic school. The family isn't Catholic but her mother Marion (Laurie Metcalf, Scream 2, Rosanne, Uncle Buck) insists that Lady Bird go to Catholic School because she thinks it's safer, repeating the "reason" over and over in one of their regular arguments, typical of parent and teen interactions. Neither does she think that Lady Bird should go away to college, strongly implying that she wouldn't get in, but anyway she should go to a local college (that is, if she doesn't go to prison).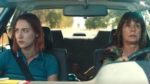 Lady Bird's relationship with her mother, really the focus of the film, is pleasingly complicated and deep. They understand each other and they don't understand each other. I think that many mothers and daughters will identify with their relationship. Marion is a psychiatric nurse and good at what she does, but somewhat of a bundle of contradictions as a mother, strict about some things and not others. Lady Bird hates her mother and she loves her mother. Both are trying to find something in each other but often missing the mark. Her dad Larry (Tracy Letts) on the other hand, is a quieter, gentler sort, although depressed because he is out of work.
Among the many bright spots in the film is its depiction of the Catholic school and church, two institutions that are severely stereotyped in movies. There are funny scenes at the school but also touching ones, silly teachers and smart ones, amid the religious rituals of Catholic life. Lois Smith is marvelous as Sister Sarah Joan, and Stephen Henderson is excellent in his brief but pivotal role as Father Leviatch, drama teacher. Like many teachers in Catholic schools, they like their students and sincerely try to help them. Lady Bird's best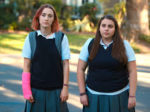 friend, Julie (Beanie Feldstein), is also outstanding in the part and has gotten a lot of press about her role. Saoirse and Feldstein are splendid together in the last scenes of the movie. For those who don't read People, I can inform you that Feldstein's older brother is actor Jonah Hill and that, unfortunately, their brother Jordan died of a heart attack at the age of 40 a couple of weeks ago. But I digress.
It's a joy to see a coming-of-age movie about a girl, and a real one at that, a very smart and funny girl who even stands up to boys. You will laugh at this movie. You may latch on to the suspense, wondering throughout if Lady Bird will do something reckless or smart. And it's possible that you may cry.
Comments Off

on Lady Bird