Posts Tagged 'Economics'
Rated R for language, violent images and drug use
Mad Cow's rating:

Even though Richard Gere almost rivals Kevin Costner on the list of my least favorite actors, I've got to hand it to him here. With writer/director Nicholas Jarecki Gere makes this story buzz. Gere plays Robert Miller, a venture capitalist trying to dig himself out of some serious fraud. He's among the "one percent" and determined to stay that way, no matter what. The "matter" is what makes for an interesting and suspenseful story.
Reminiscent of the Martin Landau character in Woody Allen's Crimes and Misdemeanors, Miller has a serious mistress problem for which he doesn't have time. It's bad enough that his daughter Brooke (Brit Marling) works in his firm and his wife Ellen (Susan Sarandon) demands that much of his time and money be delivered to her favorite charities.
When Robert's mistress, art gallery owner Julie Cote (Laetitia Casta) seriously invokes his guilt at missing a gallery opening, he rushes off to see her against his better judgment. At this point we may think he has a conscience. But alas, things go terribly wrong, causing Miller to face more compelling challenges to the maintenance of his wealth and his life. Enter Jimmy Grant (Nate Parker), the son of Miller's former Black chauffer, whom Miller calls to help him escape the law.
We move with Miller as he struggles to close a deal that will restore his financial stability and keep
his family from causing or receiving harm. He wrestles with his need for Grant's help and his guilt at putting Grant's life in jeopardy. Grant is grateful for Miller's prior but unexplained help with Grant's now-deceased father. So Jimmy goes along but with eyes wide open.
The juxtaposition of Miller's and Grant's moral integrity is well done, without sentimentality or the usual phony righteousness of so many American films. "It is what it is," as they say. The issue of race isn't addressed broadly but as subtext, as racism gets played out in how Grant is used by both Miller and the "justice system."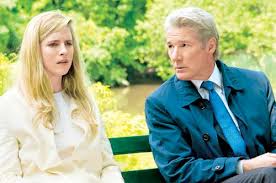 There is a scene between Miller and his daughter in Central Park in which they discuss what he's done. As one listens to the dialogue, perfectly nuanced by Gere and Marling, one gleans true meaning at a moment when there was great danger of communicating something trite. These moments are what movie-goers like myself long for. Jarecki has a great future ahead of him.
Sarandon is the picture of a wife who has put up with a lot in exchange for a lot. Marling and Casta and Parker are all well cast. Even the elements that seem derivative, like the detective (Tim Roth) who ever so slightly reminds us of Columbo, are so deftly drawn that they are amusing without being annoying.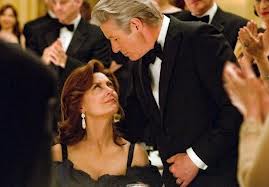 It's hard to believe that this is thirty-something Jarecki's directorial debut. Everything fits, everything works and we don't know how it's going to end. Miller is a bastard but will he get his? When the film does end we know that the conclusion was inevitable, but only in retrospect.
There's an irony that movies about big business and greed are creeping into the canon at the same time as the American people (or about half of them) seem to be rooting for the one percent. Margin Call is another of this genre. I suppose it began with Wall Street but now the stakes are higher, the action more lethal, and the people more mean spirited. What makes this particular movie brilliant, though, is that one can view it at many levels. It works as a moral cautionary tale, a commentary on American life and values, a psychological drama, and simply as a well-crafted suspenseful thriller. How cool is that?
Comments Off

on Arbitrage