Archive for August, 2016
Rated: PG
Mad Cow's Rating:

This delightful and gorgeous stop-motion animated feature, the longest ever made (beating out the previous Coraline by one minute), plays out as a Japanese fable about a little boy in ancient Japan. It represents the directorial debut of Laika Entertainment's CEO Travis Knight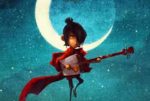 and the fourth feature film of the studio, which specializes in stop-motion films. This one took 5 years to make, having created about 4.3 seconds of film per week. (Talk about patience!) Story credits go to Shannon Tindle and Marc Haines and the screenplay was written by Marc Haines and Chris Butler. It's not an actual Japanese fable but is clearly based on aspects of Japanese culture. While it's been criticized for employing a crew of white actors to do the leading voices of Japanese characters, I've not found critiques of any offensive cultural anomalies in the plot. To this white American with admittedly superficial knowledge of Japan, it was markedly Japanese and definitely awesome.
Having seen a bunch of recent girls-empowerment animated features I wondered how one featuring a boy would play out. I needn't have feared. Kubo (Art Parkinson, Game of Thrones) is a little boy with some magical powers that, like Harry Potter, he sometimes misuses. But he can't do everything, and neither can anyone else in the movie. By night he cares for his distraught widowed mother. By day he mesmerizes people in the ancient village with stories accompanied by magical origami-like characters and objects that spring from his samisen (Japanese lute). His mother warns him not to stay out after dark but, boy that he is, one night he stays too late.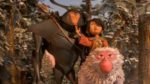 After dark bad things happen and Kubo's mistake leads to the first of many unexpected twists to the story. His mother doesn't get angry because he disobeyed but immediately works to save him from the consequences. One immediately notices how this absence of a "lesson" is a departure from most American children's films. Also, the enemy is Kubo's grandfather, the Moon King (Ralph Fiennes) who is aided by his evil aunts (Rooney Mara). Kubo must save himself by going on a quest as his hero Samurai warrior father, Hosato (George Takei) did before him. The action/adventure thus begins.
Kubo must obtain three objects formerly owned by his father in order to ward off his evil relatives, a sword, a magic cloak of armor, and a helmet. He is aided by a fierce monkey named Monkey (Charlize Theron) and a man/beetle named Beetle. All three are led by a tiny origami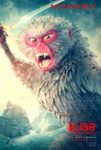 hero who doesn't speak but only points. Monkey is a fierce mothering figure whose facial expressions are brilliant. Beetle (Matthew McConaughey, in his first animated feature), who sports a resemblance to Buzz Lightyear of Toy Story fame, is well-meaning but not terribly bright. The two "adults" are jokey and corny with a humor that may appeal to younger audiences.
Like many fables worldwide the story involves heroes, villains, and challenges. Unlike many fables worldwide, fierce women feature prominently. There are scary parts, notably villains arriving in encompassing clouds of smoke reminiscent of Harry Potter's dementers, and an enormous monster skeleton with swords coming out of its head. It's not a coincidence that previous Laika features (Coraline, ParaNorman) have involved monsters. Parents of young children would do well to give a little warning that parts of the movie will be scary but "it's just a story, and I'll be there, etc." But U.S. children should see this marvelously portrayed story involving another culture, one that includes, for example, strong reverence for and beliefs about one's ancestors.
The humor rarely hits the mark (for adults anyway – I didn't consult with any children). Most of the snarky jokes are too corny. Kubo: "Don't you ever say anything encouraging?" Monkey: "I encourage you not to die." And the plot can be confusing, with some missing links. But the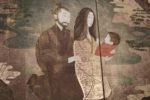 magic is there, the settings are beautiful and the origami creations are amazing. To top off everything else, one has to think a minute to figure out what is meant by the "two strings." How novel – an animated feature that requires thinking!
Comments Off

on Kubo and the Two Strings